The seed was planted on Sunday night 1/24/00...
I had been following a storm system off the coast of South Carolina that was depositing heavy snow in the mountains of North Carolina, the storm system was to track well out to sea over the next 24 hours and the official forecast as of 5pm was that our region would not be effected by this storm, maybe some flurries or a coating near the shoreline as cold air was locked in all the way to the coast.
By 7pm I could tell that someting was very wrong with this forecast as it was starting to snow in southern Virginia in places that were supposed to be too far west to be effected ... I did alot of in depth research as to what each computer model was forecasting... and all the major models were sure of the "out to sea" track, but I found some discrepencies, this thing was deffinetly moving North/Northeast, as apposed to East/ Northeast, and the clock just kept on ticking.
At 10pm, the forecast was starting to change as now there was a chance that the NJ shorline and Delaware may recieve an inch or two of snow and that there may be flurries up to Philadelphia, still supposed to be dry in Berks County.
It was at this point that I started letting people know that all the forecasters were dead wrong... and that this thing was not only going to hug the coast, but it would track so close that alot of places up to an including Philadelphia would even see sleet as apposed to snow, I looked at the data, drew my maps and concluded that there would be a path of 12" snowfall getting very close to Berks County... Still the forecasters were "positive" of their forecast...
11 pm... this is their last chance as I saw it, because people were probably going to bed after the news still no change. But there was one person at the very end of the news cast on NBC 10, "Hurricane" Swartz... stated in the shows final minute that things were starting to change rapidly... and forecasted 4-8" for NJ... 3-6" for Philadelphia... 2-4" for Berks. That took alot of guts as all the other outlets mentioned maybe an inch in Philly. And I assumed most people went to bed not knowing.
I of course stayed up, even though the news was over I wanted to see when and if outlets like the Weather Channel, and the National Weather Service were going to change their forecast. At 1 am it was snowing heavily in Washington DC, this place had about the same chance of seeing snow as we did here in Berks... it was at this point the ball got rolling... as now forecasts were changed... now 6-10" for Delaware and coastal NJ... 4-8 for Philadelphia... 3-6" for Berks and Lehigh... 1-3" York/ Harriburg. This was quite a jump in the right direction, but it was still off. I too adjusted my forecast as well I did have Berks in the 6-10", I got aggressive and decided 10-16" for Reading. Please keep in mind that there was a 9" differnce between my forecast and the governments. That is a huge difference.
At 3:30 am it began snowing heavily along the PA/MD border as far west as Adams County PA at a 1"/hour rate. Even with the new forecast Adams County was only supposed to recieve 1 or 2"... 3" tops and they got there first inch in just over an hour. With this system to last well into the afternoon, it should have been obvious that things were still wrong.
At 4:30 am it begun to snow in Reading, and it was snowing hard by 5 am. Morning News was starting and they finally got the hint of what was really going on here, with wide spread 6-12" forecasts going up for the entire area.
People starting waking up to find that there was already 3" on the ground at 6 am with white out conditions, To this day it was the hardest falling snow I had ever seen. I remember turning on the radio and hearing "if this is your alram, waking you up to go to work, don't bother as we have been blindsided by a blizzard". I wonder what most people were thinking that morning.
As the strom contiued eventually Berks County got stuck in a nasty dry slot by late morning... It started snowing again around noon and stopped at 3 pm. The official tally at Reading Regional Airport was 11" The dry slot took away probably around 4-5" more that we would have recieved.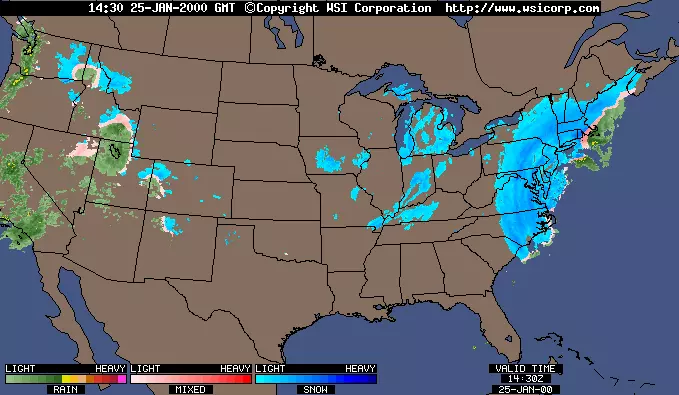 Nobody was prepared as schools and bussinesses were closed into the following day. In the days that followed there was heavy crticism of forecasting outlets accross the East-Coast for what was a truly monumental failure.