Here we are its what you've all been waiting for its time for the winter outlook for the 2006-2007 winter season… and as always we'll start by looking at where we are so far this year in comparison to previous years that were similar. And of course with that we start with the ENSO… It's well known that we are in an El Nino, a weak one that does have potential to go to a moderate level by the time winter is half way through… Now some institutions feel that El Nino's are all the same we really ran into this leading up to the winter of 02'-03'… Which was a moderate El Nino. Here was NOAA's forecast for that winter…
Instead the winter ended up like this…
Obviously this is a major screw up… While the western portion of the country was dead on in may ways the east was the exact opposite, with a massive area of cold east of the Mississippi River and was hit with several snow events most notably the Presidents Day Blizzard in February… Here is a reminder of that storm…
Now why was there such a big screw up in the forecast??? Why was it such a massive bust, well the reason for that was forged from the last El Nino event that occurred which was 97-98' (also known as the year without snow) the snowfall total for that winter in our climate district was 3.9" for the whole season making it the 2nd least snowiest winter since 1950, only beaten by the anemic 2.1" of 72-73'
Our District:
The snowfall total for the winter of 02-03' in our region was 54" the highest we will see for our analog winter seasons
The problem was that the winter of 97-98 occurred during a very strong El Nino… Here were the patterns during that winter…
There wasn't a lack of precip it was just that the pattern as a whole was overwhelmed with so much warmth do to the very strong el nino that was taking place, one that is much stronger than we see today. In fact it was the 2nd strongest on record… Only behind super El Nino back in 83'... (keep that in mind for a reminder at the very end of this outlook)
So what does all of this mean??? Well El Nino's due provide a very active storm track across the southern portion of the USA… But all El Nino's are not created equal and you can't just broad-brush them or the whole pattern. As some of our coldest and snowiest winters were weak and even moderate El Nino's, as you will see below…
As for this year's forecast… I like to compare El Nino's that have similar traits to the current one we are in and here they are.
So we have the winters of 1951-1952, 1963-1964, 1976-1977 and 2002-2003. We will look at each winter one by one. In chronological order of course is the winter of 51 and 52, it's also the most problematic for my forecast… In that it's pattern was the exact opposite from what we see in all the other winters and goes against the grain of what an El Nino pattern should be. First our region received a total of 22.2" of snow that winter with the majority of that occurring in December and March… It's not that far below our 30" average but it's the pattern itself that winter that doesn't make much in the way of sense.
Precipitation wise its not too far off from the normal things we see with a weak El Nino but temperature wise it's the exact opposite from the norm and you will see that below when we take a look at the other analog years… Now this year has to be included in my forecast as it fits with where we are at both in terms of the longer overall climate cycle and in the short term weather patterns... but if you go back up to the chart you will see that the ENSO was turning around by this point in the year and was heading back to a neutral phase something that did not occur in the other analog years and is not happening this year either.
Now lets take a look at temps and precip from the other analog years, next on the chopping block would be 1962-1963… Now snowfal for our district is way above normal for this winter at 49.2". Lets take a look at the temps and precip patterns across the country…
This is really what to expect overall from a weak a El nino the classic case actually, core of the cold across the southern half of the country, but bulging up the east coast as well… precip wise the country is overall dry but especially so in the lower Mississippi Valley (normal) and the west coast (which can vary), but the southeast on up to the mid-atlantic is above avg for precip, in colder temps to avg this of course means more in the way of snow.
Next up… we have 1976-1977 in terms of snow fall for our region its 20.6" which is the furthest below average of our analog years… But in terms of the normal pattern it follows suit in regaurds to temperatures…
Now with the prcipitation we see the problem... on the gulf coast we still have some moist spots, buts its very dry up the northeast as it is out on the west coast as well… The problem here is two fold one the overal cliamte pattern was reversed from the other analogs and from this year in that it was a drier pattern… 2) the cold itself was too extreme cold air by its very nature is dry and can be the killer of winter storms for two reasons (too dry to snow, or the core of cold pushes storms out to sea)… both were the case from this analog year…
Now lets mash all these years up and see what we come up with 1st will be with the 1951-52' analog included and the second set will be with it not included, remember the El Nino was fading by this point in that year… But I can't just throw it out as there are some similarities to our current climate cycle…
Temps:
Precip:
Snowfall avg for the 4 winters: 36.25
Core of the cold over the ohio valley and east coast, warm in the northwest extending into the nothern rockies and the upper plains…. Precip at average levels, for most of the country with the exception of very dry conditions for the west coast.
Now lets take out 1951-1952 and do the remaining 3 winter analogs plus the winter of 1986-1987, which also has some similarities to our current pattern and was moderate El nino, actually almost an exact replica in the sense that the el nino formed from the pattern that we just exited (a weak la nina) to get to our current El Nino. (THIS IS THE NEXT GREAT THEORY BEING WORKED ON)
Temps:
Precip:
Snowfall avg from the 4 years… 39.3"
I like this better as it shows the cold matches up fine but it better shows where the warmth will be, which is in the west, especially in the upper plains, also it shows the cold will not be to the extreme in the east. It will be dry out west and also in the ohio valley, wet along the gulf coast and curving up the eastern seaboard…
THE FORECAST (FINALLY)
So here is what we have so far, relatively high confidence in the fact that a weak El Nino has developed and will remain in place its not fading like it was in 1951 into 1952, also there is no indication that the El nino will grow to Strong status like it did in 98'… so here is the overall pattern we can expect…
It can make for some nice storms and I think we will have a shot at some but there will also be the possibilty of storms not being able to come north up the coast, so there could be some near misses as well… the forecast though from me is a colder than average winter but not to the extreme… just lower than average for the whole winter by 1 degree, with that said there will be periods that can be brutal up to 10 days long at times but other milder periods will balance this out particularly at the onset of winter…. Precip will be above average, a very active southern jet, coupled with an arctic branch that will be diving down will lead to phasing of storms between the two jet streams and with cold air in place and a very warm ocean for storms to feed off of… Fireworks can happen, there will be storms that don't phase though and we will see those storms slide off to the south of our region.
As for the style of the winter (how it progresses). After a cold October, November should be a touch warmer particularly as we get to the middle of the month… December can see a mean switch to cold with a good shot at pre-christmas snowstorms… January might waffle a bit, I can see us getting a January Thaw in there (BUT NOTHING LIKE LAST YEAR's)... but by the time we get to February to steal a line from my real job "the gloves are off" and winter's wrath could be really felt to the conclusion of winter into April… I believe this is when we are at risk for our biggest storms ala 2002-2003… and after all is said in done parallels will be drawn to 1992-1993 and 1957-1958 (both late winters), we get to the same place we just get there diifferent ways.
Snowfall forecast : 125-150% of normal (30")= 37"- 44"
December, February and March will be the snowiest months, especically Feb and Mar.
Potential is there for more snow, I'm just thinking some storms will get pushed to the south and out to sea… area south of Washington D.C. can see over 150 % of their average and once into New England snowfall may be just slightly above normal… It's the Mid Atlantic's Winter
Temperature Outlook:
Snowfall Outlook:
And as for my comment to keep in mind the strongest El Nino of all time back in 1983... well here is why...
IT CAN STILL SNOW IN A STRONG EL NINO... (NOAA SHOULD KEEP THAT IN MIND)
-----------------------------------------------------------------------------------
Winter Outlook Supplement (From 10/24 Blog)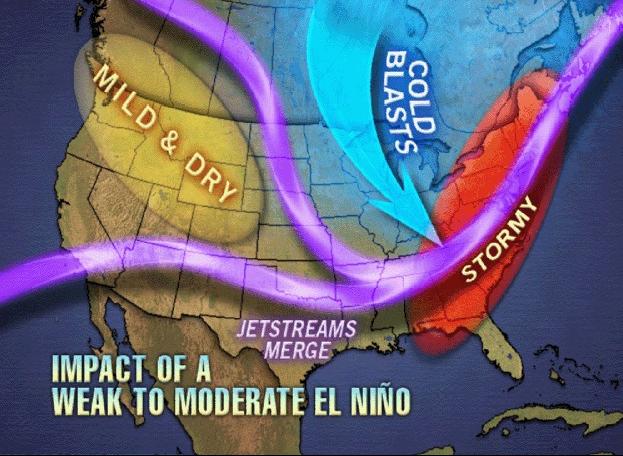 WINTER OF 2006-2007 WILL FEATURE MORE OF THE FORMER AND LESS OF THE LATTER (THIS IS NOT A REPEAT OF THE WINTER OF 1998, BUT MIGHT BE FOR A REPEAT OF 03's) READ BELOW FOR A SUPPLEMENT TO THE WINTER FORECAST...
Updated 10/24 12:24am
Just for the heck of it though I'd show what others are forecasting for this up coming winter... Just so we can keep track these will be saved to see who does best and or what model does best...
First up we have the UKMET Computer model (this would be the United Kingdom Meteorology service for all you newbies)
I don't really have a problem with this forecast as its along the line of what I'm thinking, just that I think the extent of the cold might be a bit over-done... The UKMET also has an experimental NAO forecast, The North Atlantic Oscillation in a negative phase is what you want to see to block things up and to get the pattern set up for possible winter storms now here they're forecast is saying it should trend positive for the winter, but if you look back to 2002-2003 of will see they forecasted the same thing that was a negative year and of course with lots of snow and ice (IN ALL FAIRNESS I DO NEED TO ADD THAT THE NAO FORECAST WAS ISSUED 3 MONTHS PRIOR TO THE WINTER FORECAST THEY PUT OUT)
Next up we have one of my fav's the European computer model, now this model was bad last year but I think it does well in El Nino patterns so we shall see... Now I can only show you the free images from their free website so we can't actually see up to our neck of the woods but you get the general idea...
cold in the east, warm in the west...
With a southern storm track curving up the east coast...
And now I'll pull out my least favorite and what I think will be a bust identical to the 02-03' season... NOAA's forecast the good ol' stubborn U.S.A's from our wonderful government...
Come on guys this isn't a strong El Nino... They have it looking like 97-98 all over again... maybe they will learn one day who knows...
Next the boys at Accuweather, who nailed 02-03' in the face of alot of critisism, I think they will do just fine, their reasoning is solid and they have Joe and Ken in agreement about this that argues for a good thing to come as when it comes to winter these guys are usually opposites...